Rough week?  More like weeks.  The last few have been rough.  There's been lots of traveling*, some birthdays and associated birthday parties, and some health and wellness issues to overcome.  Because I'm writing from the tail end of the health situation, I'm reasonably drained.  The last few days in particular have been especially wearying, and with that weary and defeated feeling sitting heavy on me, I was all prepared to write an "Oh, woe is me" kind of post.
Then I realized that was kind of silly.  I have very little to complain about or commiserate over.  Like many writers, I am drawn to and prefer to write about conflict and drama.  After all, a situation with no drama is boring.  Who'd read that?
A Rough Week of Travel
I could easily describe the week of coming home from a beach vacation, recovering and cleaning up from that, going to work for a few days, then re-packing and traveling to the Adirondacks for another long weekend trip as a rough week.  Believe me, there's a lot of behind the scenes theatrics that go along with family vacations.  But really, can I complain about coming home from a vacation, working a short week and going on another vacation?
It's only been a couple weeks, but I can tell you, my memories of our beach and camping trips are not bad ones.  They're full of images of beautiful children laughing, boardwalk fun and games (and food), sand, sun, swimming, and smiles.  I'm sure I grumbled about loading the car at some point, or got annoyed about converting a camper table into my "bed," but those thoughts are buried beneath the memory of eating ice cream every day for two weeks straight.
And a Big Birthday
The reason for our trip to Lake George was to celebrate my Father-in-Law's, 75th birthday.  (Happy Birthday Dad! aka GHB)  Yes, we stayed in his camper.  Yes, I  had to sleep on a kitchen table.  No, you are not allowed to go Number Two in the camper bathroom, you need to use the campsite outhouse for that business.  (Not really an outhouse, it has plumbing, but totally not convenient.)  And No, you may not use the camper shower to take a shower, you must use the campsite shower facility.  It's exactly as nice as you're picturing it in your mind.  Prison-esqe.
Big deal.  We also got to go hiking, biking, swimming, and kayaking.  We ate s'mores.  We played in the pool and I tossed my daughters around like ragdolls.
And to top it all off, GHB threw a giant party on a Lake George dinner cruise.  (Props to JCB!  Can't forget mom!)  Nearly 50 of GHB's family boarded the Lac du St. Sacrement to celebrate.  We ate, we drank, we (that is, I) ate a little more, we danced (my kid won the twist contest!) and we packed so much celebration into those 4 hours that they should have charged us for 8.
So, as I sort and catalog my memories of those trips, how could I say it was a rough week?
And Another Birthday
Oh yeah, my daughter's birthday was still about a week away.  And I forgot to mention, while we were in Lake George my wife was in…
Terrible Pain
…and she had no idea what it was from.  The pain subsided enough for her to enjoy GHB's party, but slowly returned on Sunday evening.  By Monday night, I was taking her to the ER, where they helped her with some pain medication and some antibiotics.  But, they did not give her a conclusive diagnosis, so we were off to see a few other specialists on Wednesday.
Lucky for me, my boss is pretty great about family stuff, and I was able to come and go from the office without much of a problem.  I'm still catching up on stuff at work…
And so, I'm worried about my wife, because she's immobilized from this pain that no one seems to be able to figure out the cause of.  And don't forget three paragraphs ago – we've got to pull our daughter's birthday together at the same time.  In between blinding waves of pain Laura is planning and ordering stuff from her laptop, while I'm running from store to store during my lunch hour all week to order cakes, buy party supplies, and reserve a Chinese dwarf hamster from the pet supply place.  Yeah, we added another pet to the household.
I should also break to mention that my daughters were absolutely, without a doubt, the best kids during this ordeal with my wife's pain.  They rolled with it, taking it easy playing at home, or going to a neighbor's for a play date, doing chores and cleaning up when we asked.  They rose to the occasion, and that made the rough week not so rough.  If they had chosen this week to act like assholes, it might have been a different story.
The doctor said my wife needed a procedure (Pardon my vagueness, my wife's privacy prevails), and that it has to happen on my daughter's birthday.  Crap.  Then the scheduler calls and says it can happen on the Friday before.  Then they call again and say, Psych!, it has to be Monday, meaning Laura has to deal with this pain throughout the weekend, and at my daughter's party at Sky Zone, and then throughout her secondary party, a slumber party the same evening.  It just killed her that she was going to be so uncomfortable throughout it all, and it broke my heart to see it.
But it went great.  It's not like we were the ones expected to jump around.  We got to sit on the balcony and watch the fun.  We got to see our kids being kids.  Jumping, running, eating cake, being silly.  And the slumber party – 3 extra girls aside from my 2 – was a critical success too.  There was a slight issue with a cucumber facemask peel, but that's what makes these things memorable.  They all left with their eyebrows intact.
By Sunday morning, I served breakfast to 5 tired kids and 1 tired and uncomfortable wife, and didn't think anything of it.  The biggest problem I foresaw that morning was how I was going to get a hamster in the house and hidden until the next day.
Conclusion and Aftermath
The procedure went great, although it kept Laura out of commission for a few days.  I was lucky to have plenty of help from JCB and GHB, the best mother- and father-in-law a guy could ever ask for.  Laura is back on her feet, and ready for whatever comes her way, most likely something stupid, caused by me.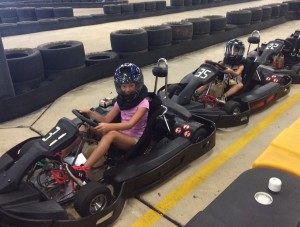 And the actual birthday was memorable.  Laura FaceTimed a happy birthday from the recovery room, and was home before lunch.  I took the girls go-karting and miniature golfing, and then made pierogies for dinner, by request of the birthday girl.
These last few weeks were not rough weeks.  They were merely challenging.  Challenge accepted, and dominated.  What's next?
Who's About to Have a Rough Week?
Josh and Jared.  Yeah, their lives suck, but they kinda deserve it.
*I just realized that the words traveling and travelling are both valid forms of the word. Two L's just doesn't look right to me.